Casino War Table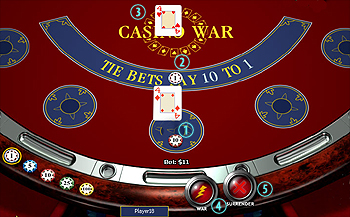 Place your bet here.
You can place a tie bet here, which pays 10 to 1 if the first two cards tie.
If the dealers card is higher than players card, dealer wins.
If both cards tie, player can go to war, or
Surrender. If player decide to surrender and have made a tie bet (2), player wins 10 to 1.
Casino War Strategies
Some online casinos use unusual number of decks. The following table shows the house edge surrendering on ties, and the tie bet itself.



| | | |
| --- | --- | --- |
| Number of Decks | Surrender | Tie Bet |
| 1 | 2.94% | 35.29% |
| 2 | 3.40% | 25.24% |
| 3 | 3.55% | 21.94% |
| 4 | 3.62% | 20.29% |
| 5 | 3.67% | 19.31% |
| 6 | 3.70% | 18.65% |
| 7 | 3.72% | 18.18% |
| 8 | 3.73% | 17.83% |