Calculate the value of a bonus offer with the Download Series Casino Bonus Calculator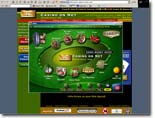 Casino on Net
Maximum Available Bonus 200.00
Casino on Net is one of the first online Casino's, with a lot of happy players since 1996. Their games are available in 8 different languages, their support is really good. As is their explanation of the game rules.
While playing in Casino on Net you can choose for a private table, a public table or invite your friends to play at a reserved table.


Casino info
Bonus Conditions
Casino-on-Net Bonus Policy states that:
All New Members will receive a Bonus of 20% on their first Deposit to their Casino-on-Net Account. The Bonus is for a maximum of $200.
All Casino-on-Net Bonuses may be Cashed Out only after an amount totaling no less than two (2) times the Bonus amount received has been wagered (i.e. a $50 Dollar Bonus must be wagered in a total amount equaling no less than $100).

Bonus Points accumulated via low-risk Roulette and Craps bets will not be eligible or any of our events.

Casino-on-Net Bonus Policy applies to all event or promotion funds received in excess of regular payouts.
All Bonuses must be wagered at Casino-on-Net within three months of being credited to a Member's Account. Any Bonuses not used within this time period will be automatically revoked by Casino-on-Net.
Casino-on-Net reserves the right to withhold the amount of any Bonus from a Member's Cash Out.
In the event of abuse, Casino-on-Net reserves the right to discontinue the Member's Casino-on-Net Membership and to prevent the Member from accessing the Casino in the future.
The Initial 20% Deposit Bonus will not be applied in conjunction with any other offer or promotion.
Casino-on-Net's monthly "Tell us where you heard about www.888.com!" drawing (the "Drawing") is:

Valid only to registered Casino-on-Net Members residing in the U.K.
Valid only to registered Casino-on-Net Real Money Members who have deposited a minimum of $50 in their Casino-on-Net Accounts.
Valid only to Casino-on-Net Members who have selected a media title option on the pop-up survey made available on the Casino-on-Net website in the UK.