Calculate the value of a bonus offer with the Download Series Casino Bonus Calculator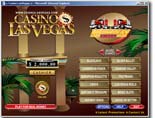 Casino Las Vegas
Maximum Available Bonus 400.00
Casino Las Vegas is a fully licensed Online Casino, regulated by the government of Antigua. The Casino is regulated by state laws, under the supervision of the Director of Offshore Gaming.Casino Las Vegas' high level of security and integrity provide have earned us with thetrust and loyalty of our clients. The Casino systems we introduce are allstate of the art, top quality systems, taking advantage of the latest Internet technologies in today's market. From high-end encryption methodologies to the latest Firewall products, our Casino systems are the most secure and advanced in existence.


Casino info
Bonus Conditions

This promotion is open to all Casino Las Vegas first time depositors. Deposit any first deposit amount at Casino Las Vegas and we will automatically credit your account with a 100% bonus of up to $100 in free cash.
But that's not all – we will give you a 100% bonus of up to $100 in free cash on your next THREE deposits in the Casino

For example:
1st Deposit, Get up to $100 match bonus.
2nd Deposit, Get up to $100 match bonus.
3rd Deposit, Get up to $100 match bonus.
4th Deposit, Get up to $100 match bonus.

Bets placed on Baccarat, Baccarat Live, Craps, Roulette, Roulette Live and Sic Bo do not count towards the high rollers first deposit bonus wagering.
If you wish to play any of these excluded games, please contact [email protected] to have your bonus removed before playing these games (please include your Username in the email).
Casino Las Vegas reserves the right to withhold any amount in excess of the player's original deposit from a player's withdrawal if the bonus is wagered on the above games, before the wagering on allowed games is completed fully.Any special bonus requests will be considered by the Management and should be submitted to Support for review.

Due to continuous severe abuse of promotions by players residing in Denmark, all Danish players are required to wager 40 times the total of their deposit and bonus/es received in order to cash out any amount exceeding your original deposit.