http://www.ibas-uk.com/


The Independent Betting Arbitration Service was formed in the autumn of 1998 with the approval and support of the industry (over 90% of UK bookmakers have registered with the service). IBAS is funded by Trinity Mirror and Satellite Information Services (SIS). IBAS is a non-statutory service and our rulings are not enforceable in law. Registration with IBAS is in no way a guarantee of a bookmaker's financial strength or its ability to pay on winning bets. Bookmakers who register with IBAS undertake to be bound by the rulings of its arbitrators. Failure to abide by an IBAS ruling would mean that a bookmaker had not honoured his obligation under the scheme - which would result in the bookmaker being publicly de-registered from the service. Although this website will be an important communication opportunity for IBAS, it is important to emphasise that arbitrating in betting disputes is the service's principal role, offering and delivering effective dispute resolution procedures in a modern, independent structure to customers of bookmakers registered with the scheme.


---
Membres de cette branche dans notre base de données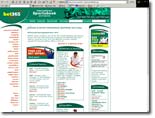 bet365
bet365, is the Internet and telephone betting division of the bet365 Group Limited, one of the UK's leading betting and gaming groups. The group has h...


Information de casino